I need to start this review by saying that no... I have not seen the first two Hangover movies. I hear they are super funny (depending on who you talk to) and that they will definitely conjure some good laughs.
Despite not seeing the first two films in the film series, I was definitely able to understand the plot and characters just fine and therefore it is not obligatory to see the first two films to see The Hangover Part Three.
I may not be the best person to go to considering this is the only film that I have seen thus far in the series and this brand of comedy is not my favorite but, I will give a SHORT review of the Hangover Part 3 nonetheless.
I'm just going to throw this out there now..This movie was not the most funny movie I have ever seen and there are a fair amount of problems with the plot design and originality. Overall the film seemed to be a desperate attempt for laughs and an obvious end to the series. I did not find the opening scene with the decapitation of the giraffe funny at all and the scenes with the boy "Carlos" were dry. There are also plenty of "goofs" present in the film too, with the most obvious being when Pawn shop owner Cassie (McCarthy) bites down on a lollipop in one scene, then pulls it out in the next scene being perfectly intact.
HOWEVER,
There was plenty of good solid comedy in the Hangover Part Three that makes it worth seeing (if you enjoy mindless comedy). Ken Jeong's performance as the devious, sneaky, wily, quick, little and crazy Chow was GREAT. He gave the film a life force and was the source of ALOT of comedy.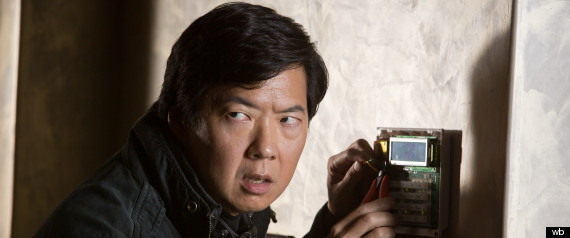 (Derp)
Zach Galifianakis also brings the laughs as the immature and nonsensical Alan. Watching him singing (or lip-syncing) Ave Maria at his father's funeral and crying like a baby after learning about the intervention was pure comedy.
(Playgirl ready..)
Bradley Cooper appears as the voice of reason and as that one person in every group who ends up doing all the work. Overall I found his performance average (considering I just watched Silver Linings Playbook recently where his acting was stellar.)
John Goodman was great playing his role as well. Not super funny but convincing as the film's main antagonist.
(Where's Roseanne?)
The movie seemed like a good laugh and everything but the REAL reason I saw The Hangover Part Three was for ONE OF MY FAVORITE ACTRESSES EVER, (Drum role please?)
MELISSA MCCARTHY
LOLLLL Such a gross and funny scene...
I wish her role was larger in this film..
Film Rating:
70/100
C-
Funny
Trailer:
Its a short review but let me know what you think! I love feedback!